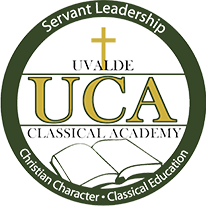 Volunteer Opportunities
At Uvalde Classical Academy we are continually seeking ways to actively involve the parents, siblings, and grandparents of our students in the programs of the school. Below are just a few of the more common ways this is done.
You may:
Visit the school/class at any time. Visitors must call ahead out of courtesy to the teacher and check in at the office before going to the classroom.

Assist in the classroom, regularly or infrequently. Arrangements are made with the teacher.

Act as a chaperone on field trips and/or library visits.

With permission and arrangements with the teacher, present your vocation to the class or invite them to your place of business.

Share your experience, trips, or vacations as they may relate to an area of study in a class.

Assist the teacher with special presentations or projects

Help host class parties.

Attend all Parent-Teacher Conferences. Informal conferences may be held anytime at the parent's or teacher's request.

Closely monitor and praise your child's progress by reading all teacher notes and papers sent home.

Communicate your ideas for school improvement and comments regarding the school program to the administration. We want to hear from you.

Support UCA's volunteerism goals by serving on a committee or providing leadership for an activity or project.
All volunteers working directly with students must submit to a full background check and complete a child safety training course online and submit the completed certificate to the office. Information on this course is provided upon request by the office.