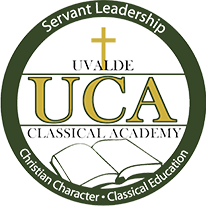 Statement of Faith
The statement of faith adopted by Uvalde Classical Academy is limited to primary Christian doctrine, which is considered to be central to all Christian denominations, and which sets Protestant Christianity apart from others. Our statement of faith focuses on the truths which have bound orthodox Protestant Christians together through the ages, across the boundaries of time, place, race, denomination and tradition. For our purposes, a Christian is one who has heard the truth, Gospel (Col.1: 5), as summarized in the statement below, and who has responded to that message in genuine repentance and faith. He confesses with his mouth and believes in his heart that Jesus is Lord and that He died for our sins, and that God raised Jesus from the dead (Romans 10:9,10). The substance of these statements is that which will be considered primary doctrine in Uvalde Classical Academy. Secondary doctrines and issues will not be presented as primary doctrine. When these types of doctrine or issues arise, they will be referred back to the family and local churches for final authority.
Primary Doctrine:
The Bible. We believe the Bible is God's written revelation to man, and thus the sixty-six books of the Bible given to us by the Holy Spirit constitute the plenary (inspired equally in all parts) Word of God. We believe the Word of God is objective, absolute revelation, verbally inspired in every word, exact in the original documents, infallible, and God breathed. We teach that the Bible constitutes the only acceptable rule of faith and practice. (John 17:17, 2 Tim. 3:16, 2 Peter 1:20-21)
The Holy Trinity. We believe there is one God, existing in three persons: God the Father, God the Son, and God the Holy Spirit. He is omnipotent (all-powerful), omniscient (all-knowing), and omnipresent (all-present).
Creation and Man. We believe the Triune God, according to His sovereign will and for His own glory, created the heavens and the earth without the use of pre-existent material. All living things, we believe, came into being by a direct creative act of God and not by an evolutionary or random process, and thus have an existence distinct from Him and yet always dependent on Him. We believe God directly and immediately created man in His image and likeness. We believe man was created free of sin. We teach God's intention in the creation of man was that man should glorify God, enjoy God's fellowship, live his life in the will of God, and by this accomplish God's purpose for man in the world. We believe that in Adam's sin of disobedience to the revealed will and Word of God, man lost his innocence. We teach that because all men were in Adam, a nature corrupted by Adam's sin has been transmitted to all men of all ages, Jesus Christ being the only exception. All men are thus sinners by nature, by choice, and by divine declaration. (Gen. 2:4, Prov. 16:4, Acts 17:24, Col. 1:16-17, Gen 2:16-17, Gen. 3, John 3:36, Rom. 3:9-18, 23, Rom. 6:23, Eph.2, 1-3)
Salvation. We believe Jesus Christ is the Son of the Living God, fully God and fully man. He was born through the virgin birth and was resurrected from the dead. We believe Jesus Christ gave His life on the cross to bring salvation to the world. It is only because of, and our belief in His sacrifice that we have forgiveness of our sins. This is the only means of salvation. By His blood we have forgiveness for our sins and by the stripes on His back we were healed. Jesus Christ is the same yesterday, today, and forever. Jesus Christ is still healing, delivering, and restoring people; body, soul and spirit by the power of the Holy Spirit. (Mat. 16:16, John 1:1, Luke 1:35, 1 Peter 1:18,19, 1 Peter 2:24, Mark16:18, James 6:14-25)
The Church. We believe in the spiritual unity of all believers in the body of our Lord Jesus Christ, of which He is the head. We agree with admonition of Scripture not to forsake the gathering together with fellow believers and therefore advocate active participation in a local church. The purpose of the church is to glorify God by growing in faith and knowledge of God through instruction in the Word, fellowship, keeping the ordinances, and advancing and communicating the Gospel to the entire world. (Mat. 28:19, Acts 2:38-43, Eph. 1:22, Eph. 4:5,13-16, Eph. 5:23, Heb. 10:24-25)